I choose to be Optimistic. I choose to have Fun: Mary Jensen
"What makes me optimistic? For me, it's a choice. I didn't live my first half of my life very optimistic at all, and now I know that there's a better way, and now I know I have a choice. So it's my mindset. I choose to be optimistic. I choose to have fun. I choose to have adventure. I choose to bring in childlike wonder and all, because if you can, why wouldn't you?"
That's what Mary Jensen told me when I asked what makes her optimistic.
Mary Jensen is the CEO of M Power Services and a High Performance Executives Coach and Mentor.
I asked Mary about the positive leaders in her life.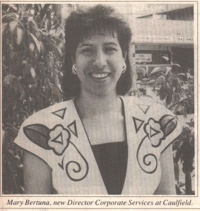 Mary told me, "I've been surrounded by some incredible role models in my corporate career."
"I was 17 years old and working as an Accounts Clerk at EDS Electronic Data Systems when my Manager Mary Bertuna called me in and said I had the potential to go anywhere and do anything and the company would support me. She was one of the very first people in my life to value me and believe in me. I went home and thought I want to be just like her. She definitely influenced and inspired me optimistically to believe in my own potential and possibilities. After EDS she became The Director of Corporate Services at Caulfield. I have tried to find her as I would love to thank her. She was an incredible role model in a time when women were not in many leadership roles."
John Hull was one of 4 Directors at EES Shipping. I worked there for 5 years starting as an Assistant Accountant. I then became Finance Manager and at 25 years old I became Financial Controller.
"John didn't ever see age as a barrier and people were rewarded for their contribution and not held back because of age. He shaped my career and gave me space to test my ideas with freedom. I will never forget the incredible impact he had on my finance career. I remember the Auditors questioning his decision to promote me as a risk assessment. He documented why I was an asset and not a risk.
John mentored me on my behaviour and attitude in a significantly positive way. I remember one time he said, "Mary you're always right but it's good to leave people with their dignity".