Vision: Develop an inspiring optiimistic Vision.
Think change that embraces an enhanced optimistic culture in the organisation to improve the lives of the team, leaders and stakeholders.
Leadership: Appoint Realistic and Infectiously Optimistic leaders.
Think about how Leadership can create the desire, knowledge and reinforcement for successful change.
Stakeholders: Define and Understand the stakeholders.
Analyse stakeholders with a focus on developing a change-ready culture. What is their culture?
Scope: Determine the scope to everyone is on the same page
What are the parameters for implementing and achieving the Vision?
Strategy and Processes: Map the strategy and processes to move from the current state to the desired state. How are we influence the stakeholders towards the desired state?
Resources: Ensure the program is resourced with 'enabling' people with supporting budgets. Define resourcing needs – people and technology - to achieve success.
Engagement: Build and influence people to embrace the change.
Map out the engagement processes to influence, educate, communicate and lead to achieve the Vision via demonstration, championing, education, communication and reinforcement.
Governance: Govern with an optimistic and positive outlook. Establish a framework that inspires success and overcomes fear, where risk is assessed as an enabler, not a preventer.
How should the project be monitored; how should it be measured and evaluated (re KPIs) to ensure it remains on track or adjusted to achieve the Vision?
Cassandra Goodman, Founder & Director of The Centre for Self-Fidelity
"What makes me optimistic is that more and more leaders are realising that successful business transformation is dependent on the extent to which they themselves have the courage to embark on their own personal journey of transformation and exploration."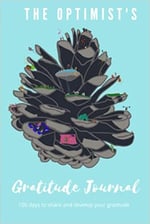 Project Optimism has produced "The Optimist's Gratitude Journal: 100 days to share and develop your gratitude" which is very helpful.
See https://www.amazon.com/Optimists-Gratitude-Journal-develop-gratitude/dp/B09MC5ZNPX
Connect With Us
We love to connect with everyone who is ready to open up and share their optimisim.