By Victor Perton, Founder of The Centre for Optimism
In mid-July, in conversation with Lou Conway, Director of the Smart Region Incubator, we agreed Armidale (NSW) and the University of New England could do with a dose of optimism.
We hit upon the idea of Spring into Optimism.
With a run-up of four weeks, we settled on five events, all of which proved to be a raging success.
Breakfast for Optimists, inviting the creative community, entrepreneurs, start-ups and innovators, was held at the beautiful New England Regional Art Museum on the first morning of Spring with the power of Optimism led by Chief Optimist Victor Perton. We were spoiled with the innovative cuisine of the area in the Six Counties Cafe, with the food colours emphasising orange and yellow.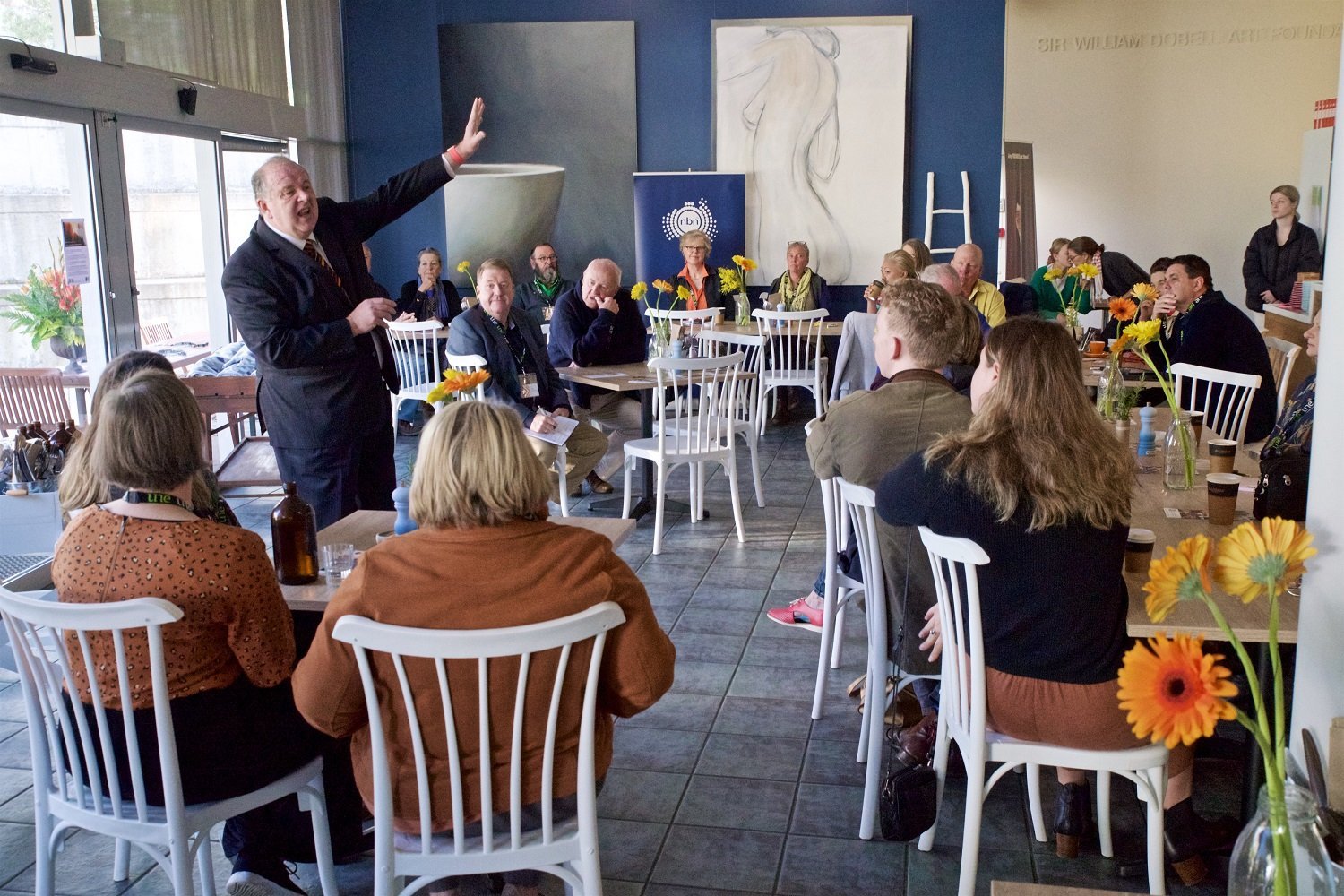 Economic Optimism for the Business Community and Economic Development Community of the Region at Armidale's NOVA. A full house again asked, "What makes you optimistic about economic development in our region? " Chief Optimist Victor Perton opened the conversation but did not have to speak for long as every person in the room opened up on a question they had never been asked before.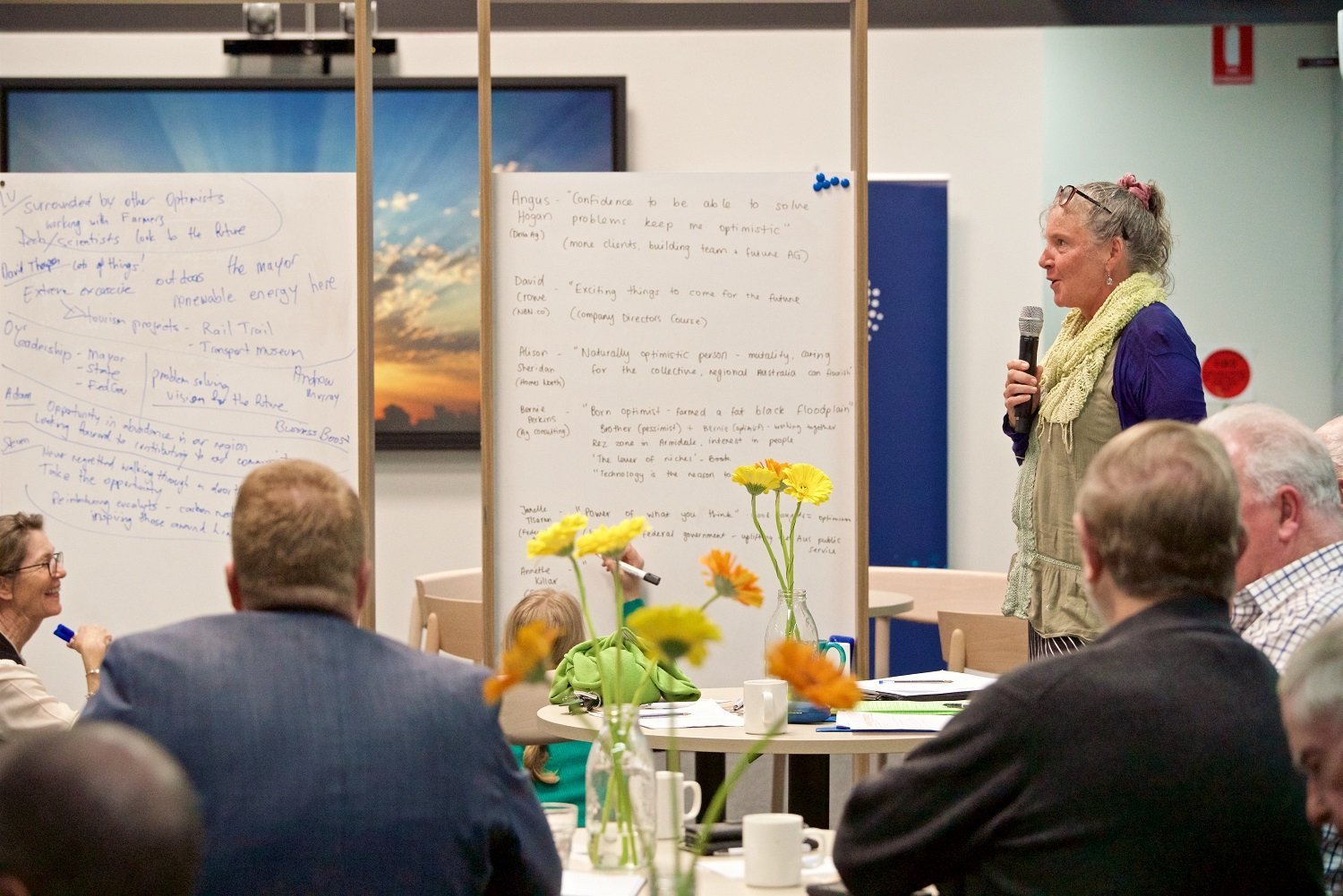 The Optimists Debate: The Case for Optimism v The Case for Even More Optimism. Speakers included:
The Hon. Adam Marshall MP, NSW Minister for Regionla Development and Member for Northern Tablelands

Mayor Cr Sam Coupland, Armidale Regional Council

Dr Debra Kelliher, CEO & founder of AWARE Network (Authentic Women – Awake, Respected, Empowered)

Mr David Widders, Proud Anaiwan man

Ms Anna Barwick, CEO & Founder PharmOnline, NSW Regional Woman of the Year & NSW Premier's Woman of the Year

Mr Sufian Halo, Student Learning Support Officer at Armidale Secondary College.

Professor Simon Evans is the Interim Vice-Chancellor and CEO of UNE
Again a full-house hosted by Armidate's NOVA with serious reasons for optimism, uplifting conversation and speeches and much laughter.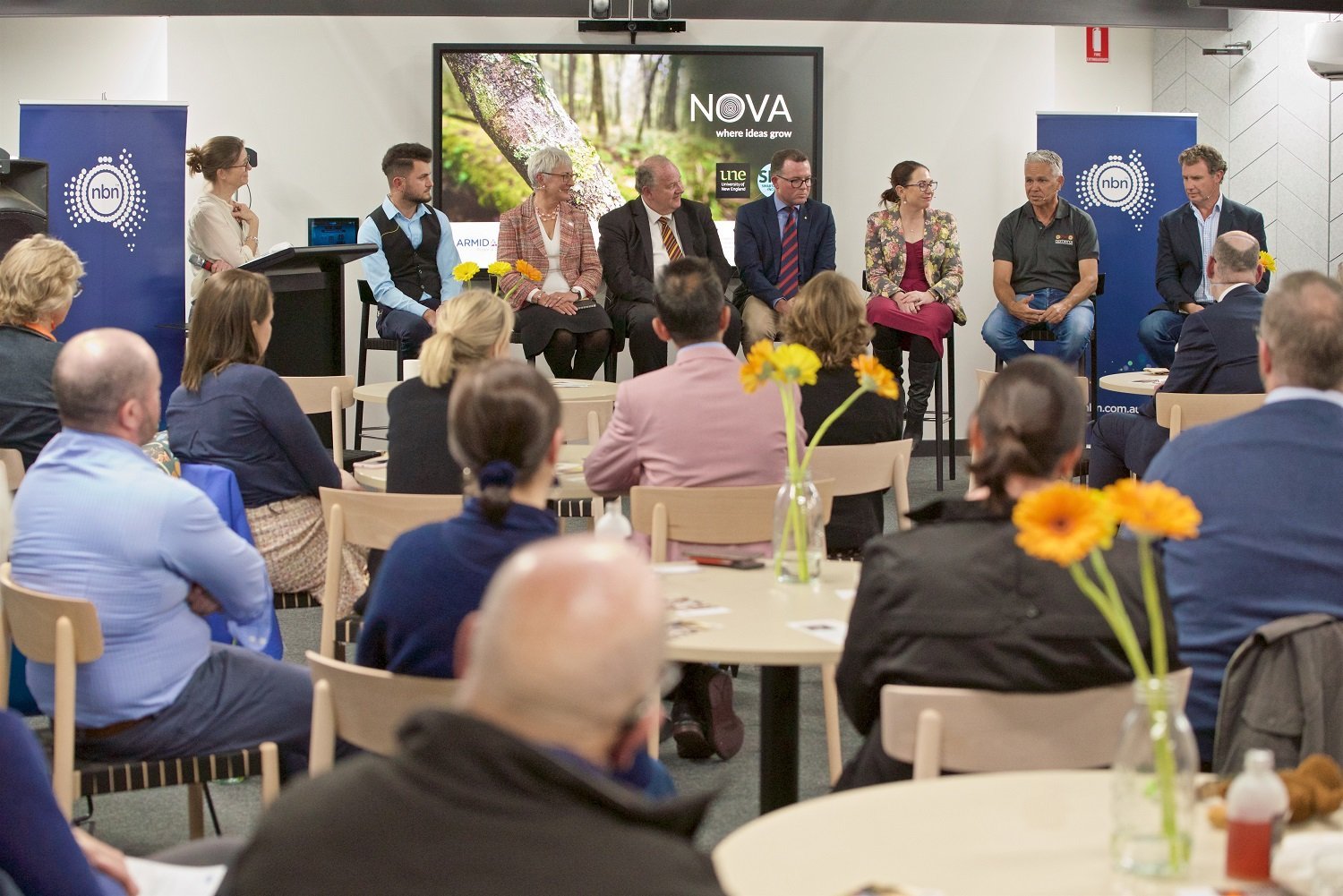 Optimism in the Gorge, Sunrise Yoga and Meditation
Envisaged as sunrise yoga for eco-optimists in beautiful surroundings led by Sue Watt from The Yoga Way.
Heavy rain persuaded us to move indoors to the Oorala Aboriginal Centre. With the doors open, we enjoyed yoga led by Sue listening to the rain and concluding with meditation for optimism led by Victor.
A wonderful conversation over light refreshments followed with people heading to classes and work much invigorated,
Optimism for School Leaders
This event at Armidale Secondary College brought together Year 11 students from schools in the Armidale Region, reaching as far as Moree.
We ran an "Optimism; The How and Why" workshop with plenty of time for the students to share their perspectives and share innovative positive leadership ideas.
It was uplifting as the students shared what makes them optimistic and ideas for innovation and action plans for implementation.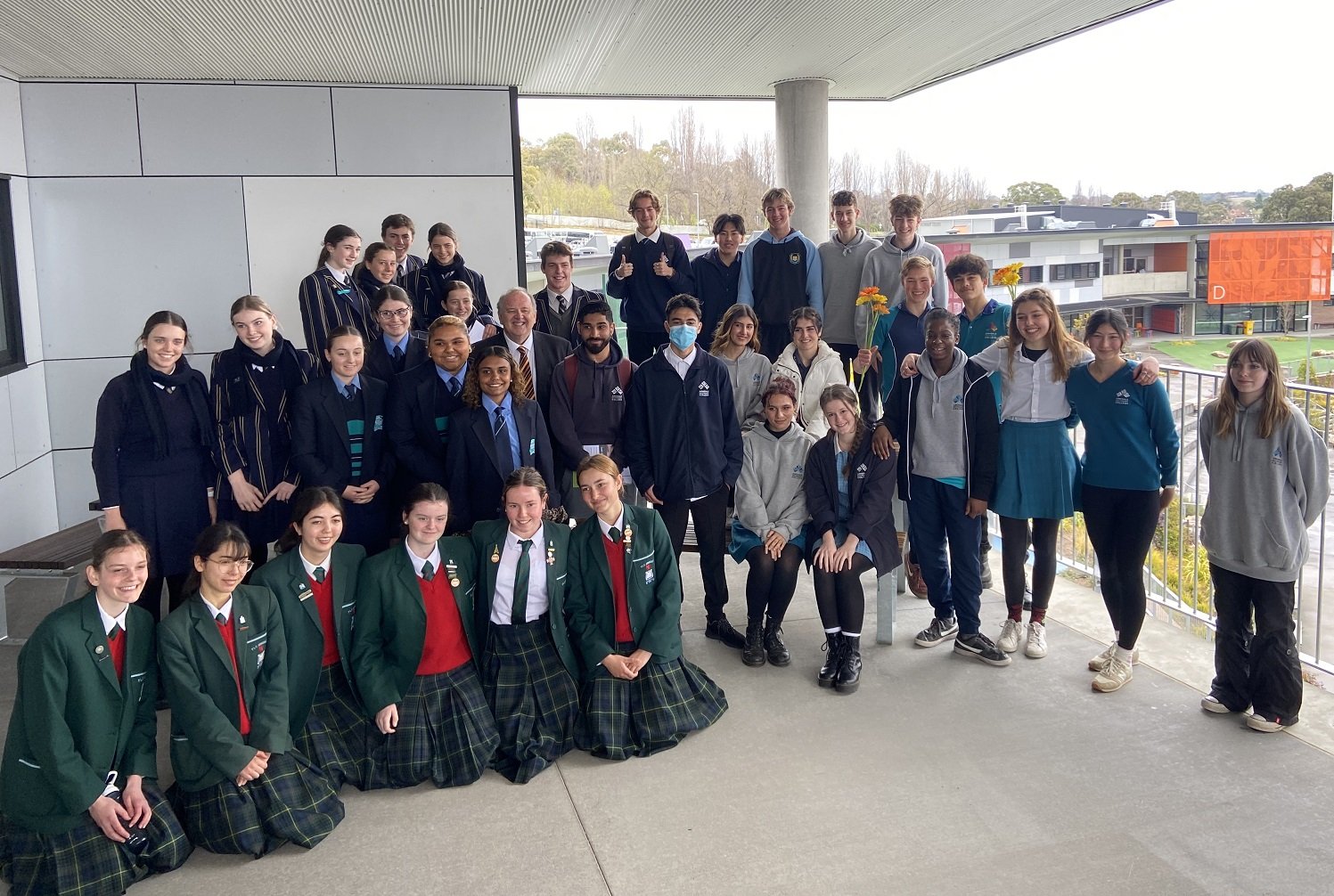 Some Insights from the Student Leaders
"Leaders should be optimistic."
Asking the question, "What makes you Optimistic?" is important to consider the answers to what makes us optimistic."
"Creating traditions is important for the community and building the optimistic culture we want to promote."
"We have Wellbeing Wednesday. We will be more intentional to include positivity in this We will be more intentional to include positivity in this."
"Surprise and delight. What we aren't prepared for makes it more optimistic and joyful."
"Communication is key to making our community closer."
"In Moree, we have equal leadership - no vice-captains and specialist leaders. Everyone is equal."
"We will maintain our traditions and look for new optimistic customs that suit current and future students."
"We want to look back on our history and learn from that."
"Look to the future - not just now (future aspirations)"
Professor Simon Evans, Acting Vice Chancellor, University of New England
"I am optimistic because it is a mindset that predisposes me to action rather than inaction in the face of challenges; because I believe in the possibility of positive change through collaborative endeavour; and because it is necessary (but not sufficient!) in order to be an engaged and supportive friend, colleague and leader."
Lou Conway, Director of the UNE SMART Region Incubator
"What makes me optimistic? Endless possibilities that are fuelled by growing things, music, listening well and every other unbounded moment of creativity."
Sam Duncan
"When I was young I heard a quote by Ralph Waldo Emerson that stuck with me. It goes 'Nothing great has ever been achieved without enthusiasm'. I don't think you can be enthusiastic without being optimistic, and so I think it's fundamental to achieve great things."
Sarah Burrows, Director at Red 8 Produce
"I choose to be optimistic, I don't like the alternative. I know I am fortunate, in so many ways, and optimism drives my persistence to find better solutions and to support those around me who are also progressing change for good. Optimism is a choice and is infectious if shared."
Danielle Morton, Founder of Zondii
"Knowing we can reverse the damage to the planet by regenerating the soil and change the pace of our lives makes me optimistic."
Read more of these inspiring quotable quotes in "Optimism: The How and Why" by Victor Perton, CEO of The Centre for Optimism.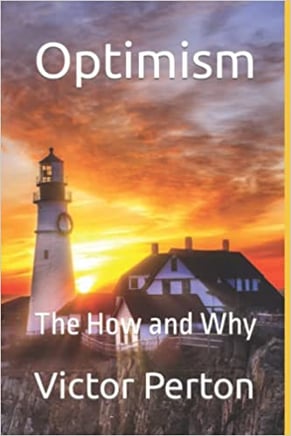 Connect With Us
We love to connect with everyone who is ready to open up and share their optimisim.