Optimistic about Our Ability to keep Australia Safe: Richard Marles
"I'm actually optimistic about our ability to keep Australia safe, our agency in being able to maintain our way of life."
Realistic optimism from Australian Deputy Prime Minister and Defence Minister Richard Marles MP
answering Bob Katter in Parliament.
Bon Katter asked: My question is to the Minister for Defence. In a national survey, 60 per cent of respondents said that if we were invaded they wouldn't fight. In Europe, war drums are beating; in China, Pelosi's visit triggered mobilisation. Minister, we had in our last war, Konfrontasi, 1½ million combat rifles and now we only have 36,000 rifles. Was $4 billion spent on hundreds of drones and dozens of patrol boats which, except for a small machine gun, have no armaments whatsoever? My Kalkatungu mob held British invasion at bay for 60 years. Minister, can I give you their telephone number?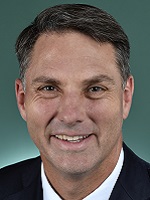 Richard Marles said, "Can I say to the honourable member, yes, you can definitely give me their telephone number—I think that would be very useful!
"I thank the honourable member for his question and, in doing so, I thank him for—dare I say it—in his earlier years his service in the CMF. Perhaps, in the same breath, I can thank the service of all of those in this House and in this parliament who have been in the defence forces. Indeed, I thank the service of the thousands of Australians who have volunteered for our regular Defence Force and for our reserves.
"As the honourable member's question alludes to, we live in a very precarious world. Through most of my lifetime a tenet of strategic thought has been that if anybody meant to do us harm we would be given a 10-year warning. In 2020, the former government, rightly, in its Defence Strategic Update observed that for the first time we now live within that 10-year threat window. We are seeing the global rules based order being placed under increasing pressure, in Eastern Europe with the war in Ukraine and the appalling invasion by Russia of that country. But we're also seeing the global rules based order being placed under pressure in the Indo-Pacific. So the question is begged as to what we are going to do about that. That is the work of the Defence Strategic Review, which is being undertaken right now. I don't want to pre-empt what will be concluded there, but clearly we are going to need to think in strategic terms in the future—much more in terms of impactful projection; being able to hold our adversaries at risk at far greater distances from our shores, both in terms of greater lethality, as the member has alluded to, but also through the full spectrum of proportionate response. Exactly how we do that will be the work of the Defence Strategic Review. Clearly a capable long-range submarine is going to be really central to that, which is why we are working with our allies in the United States and the United Kingdom on developing, for Australia, the capability of having a nuclear-powered submarine.
"Inherent in your question is also, I think, another really important point. While I wouldn't agree with all the assertions in your question, there is, occasioned by this, the need for a different discussion with the Australian people about the risks that we face. This is not to be done in a way which causes panic or which is alarmist, because I'm actually optimistic about our ability to keep Australia safe, our agency being able to maintain our way of life. But having a sensible, sober, clear conversation with the Australian people about the world that we face is really important and that's what the Albanese government is seeking to."
Optimism has been a consistent theme of the Prime Minister Anthony Albanese.
On election eve 2022, he said: "I want a country where hope and optimism are the major emotions projected from our national government to the Australian people."
On the doorstep of his home before heading to Canberra to be sworn in as Prime Minister, he said: "I want to lead a government that has the same sentiment of optimism and hope that defines the Australian people. I want to be positive and channel the opportunity we have to shape change, so we bring people with us on the journey of change."
At a doorstop at the premises of Pallion, the Prime Minister said, "I'm very proud to represent this local community, but I'm also very proud to be the Prime Minister of Australia, to lead Australia at a time where really we're at a crossroads. We can be more successful if we're optimistic if we seize those opportunities which are there. I'm determined to do so."