Dynata Survey Finds More Optimists than Pessimists For Year Ahead
March 15, 202
Dynata released the results of its January 2023 Global Consumer Trends survey exploring "the attitudes and behaviors of 11,000 people across 11 countries, aiming to better understand how evolving economic and social factors are impacting consumers across the world."
The survey asked "Thinking about the state of the world in general right now, how optimistic or pessimistic do you feel about the year ahead?"
Surveyed people were more optimistic (42%) than pessimistic (34%) about the year ahead.
Optimism was highest in China (76%), the United States (49%), Australia (47%) and Canada (46%).
Then, in order, Germany and Spain 39%, the United Kingdom 38%, Italy, the Netherlands 33%, France 32% and Japan 28%.
The pessimists outnumbered the optimists in France, Italy, Japan, the Netherlands, Spain and the United Kingdom.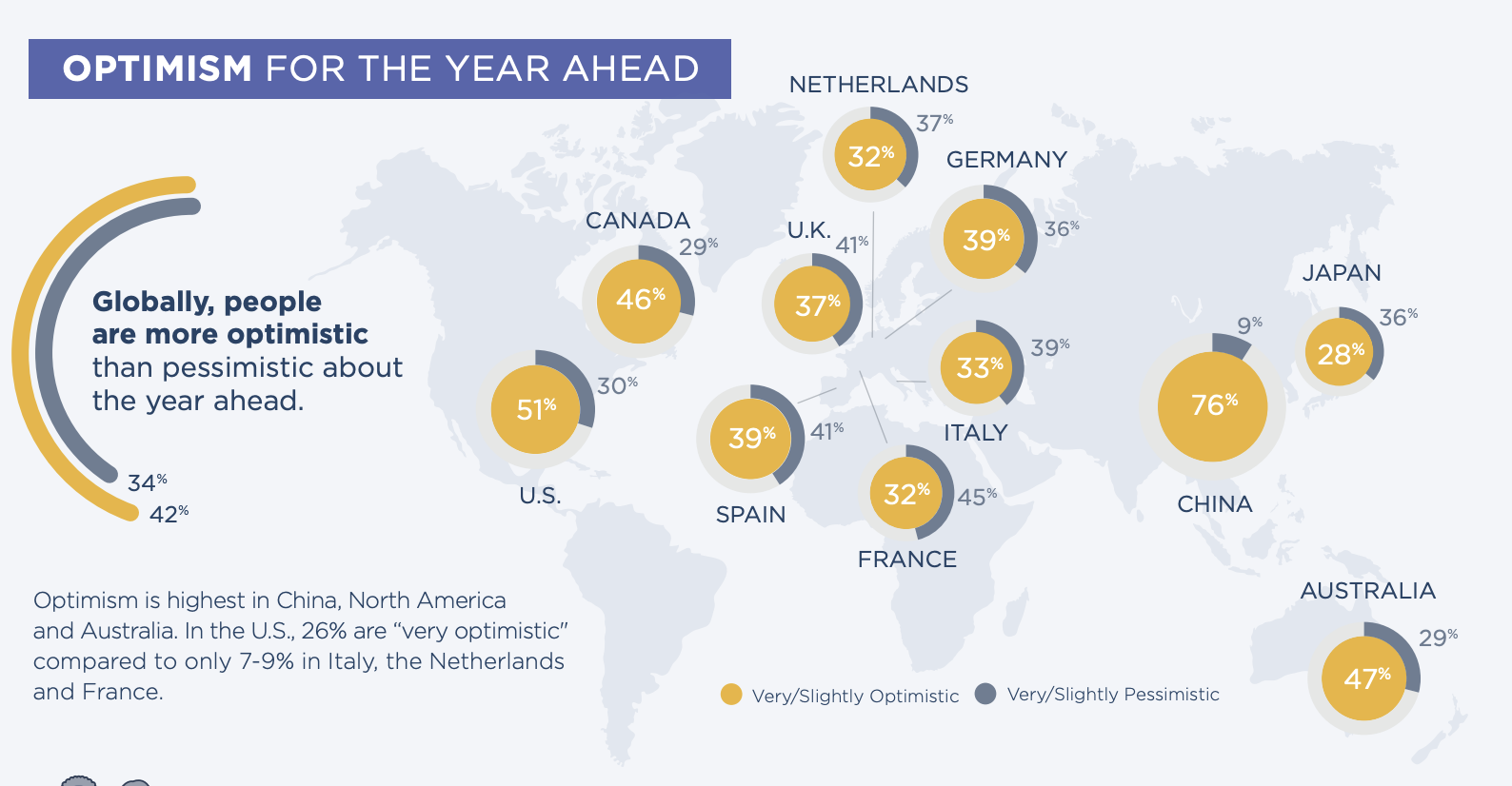 In the U.S., 26% are '"very optimistic," compared to France (9%), Netherlands (8%) and Italy (7%).
Gen Z (60%) and Millennials (52%) feel more optimistic than Gen X (36%) and Baby Boomers (28%).
Inflation is the No. 1 concern for consumers globally and across all age groups — except in China, where consumers are worried most about the ongoing impacts of COVID-19.
Younger generations worry more than older generations about unemployment (41% of Gen Z vs. just one in five Baby Boomers), gender equality (36% of Gen Z vs. 17% of Baby Boomers) and LGBTQ+ rights (29% of Gen Z vs. 13% of Baby Boomers).
Mental Health
Half of the people surveyed globally (49%) say their mental health has changed since before the pandemic.
Of those: Slightly more people self-report feeling better (26%) than worse off (23%) mentally, with the most positive improvements found in China (59%), the U.S. (34%) and Canada (28%).
Financial problems (43%) are the top-cited factor globally for those whose mental health has declined — including more than half of consumers in the U.S. and Spain (both 53%), and Australia (52%).
Talking about mental health was once considered taboo. Now, half of the people globally (50%) are comfortable discussing it openly. The highest figures are found in China (61%), the U.K. and U.S. (both 58%).
Compared to 2019, women of all ages (26%) report worse mental health than men (19%).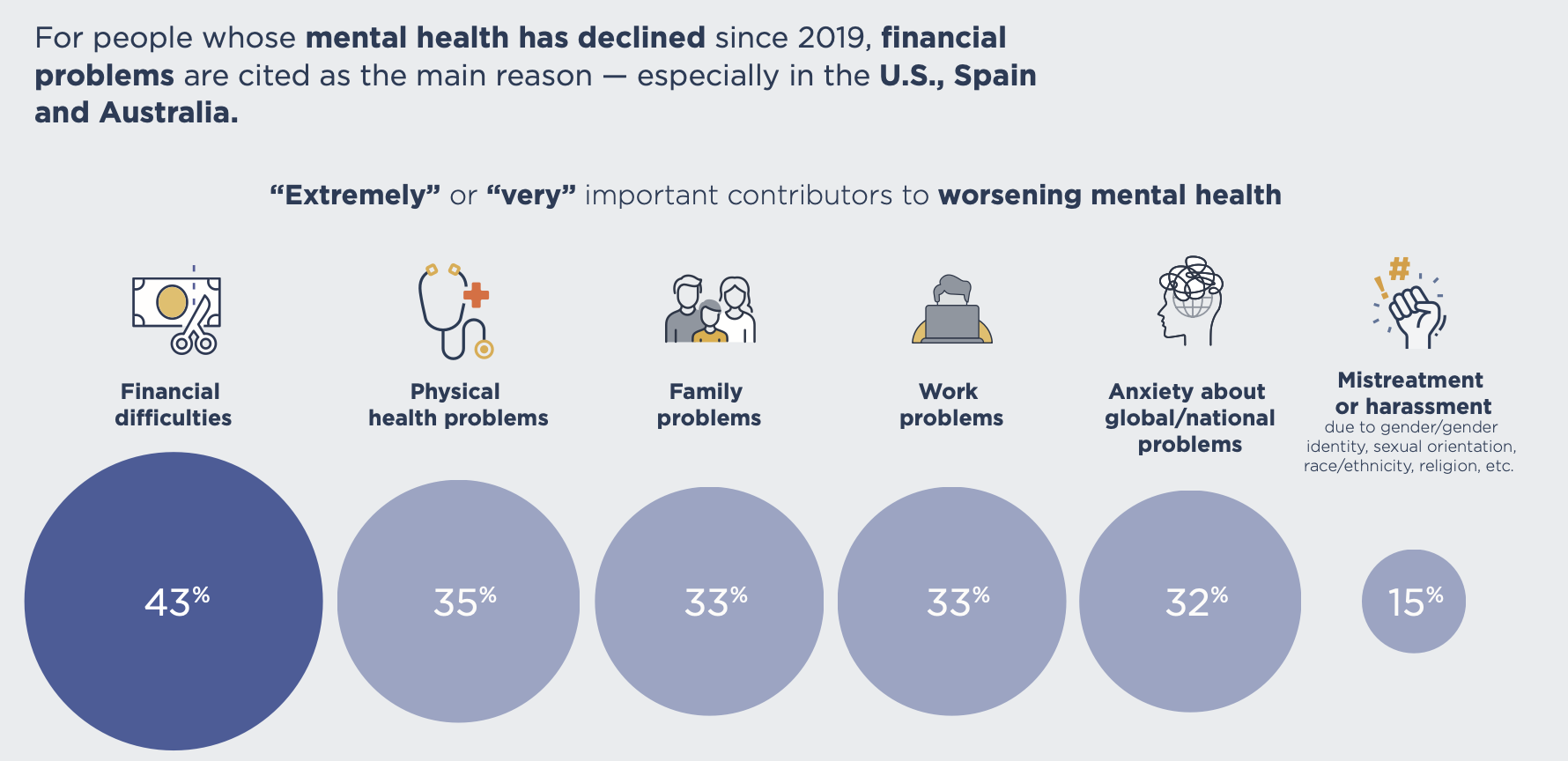 Research Methodology
Dynata claims to be "the world's largest first-party data company for insights, activation and measurement. With a reach that encompasses nearly 70 million consumers and business professionals globally, and an extensive library of individual profile attributes collected through surveys."
Dynata says these research findings draw on responses from 11,000 consumers age 16+ across 11 countries — the U.S., Canada, U.K., France, Germany, Italy, Spain, the Netherlands, China, Japan and Australia — between Jan. 5-10, 2023. Participants were selected across Dynata's online research panels, with samples quota-controlled to reflect the population on age, gender and region. The margin of error (at the 95% confidence level) is +/- 3% at the country level, +/-1% at the total level.
Here are some similar articles