Christine McVie's Beloved Optimism: Don't Stop
sweetness and optimism
dreamily optimistic
clear-eyed optimism
Lovely phrases describe this well-loved figure of music, Christine McVie.
"What is notable about Christine McVie's contributions is the sweetness and optimism that offsets any sadness or bitterness. Throughout her songwriting career, she infused her work with romantic positivity, that was a perfect match for her lovely, clear voice," wrote Neil McCormick.

Mikael Wood wrote, "Christine McVie, the singer, songwriter and keyboardist whose dreamily optimistic tunes for Fleetwood Mac — including such FM-radio staples as "Don't Stop," "Little Lies," "Songbird," "Everywhere" and "You Make Loving Fun" — helped make the band one of the most successful acts in music history, died Wednesday. She was 79."
I love her song, "Don't Stop."
Don't stop thinking about tomorrow
Don't stop, it'll soon be here
It'll be better than before
Yesterday's gone, yesterday's gone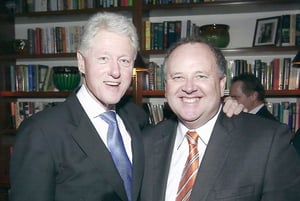 Al Shipley reflecting on the significance of "Don't Stop" wrote, "Reaching No. 3 on the Billboard Hot 100, "Don't Stop" was Fleetwood Mac's biggest American song penned by McVie, though she shared lead vocals on it with Buckingham. 15 years later, the sunny anthem became the theme song for

Bill Clinton's first presidential campaign and a symbol of both the '70s nostalgia and liberal optimism accompanying the election of the first Boomer commander in chief.

When Clinton took office in 1993, Fleetwood Mac's Rumours lineup reunited for the first time in more than five years to perform "Don't Stop" at his Inaugural Ball. "Don't Stop" was also the last song McVie played with Fleetwood Mac, as an encore at a San Francisco benefit for the UCSF Benioff Children's Hospital in November 2019."
Thomas Curtis-Horsfall writing about "Don't Stop" said, "
Fleetwood Mac
's pop rock stomper is undoubtedly one of the most optimistic and uplifting songs of the past half century.
It's also one of the most successful and enduring songs from the long list of illustrious anthems that have made Fleetwood Mac a globally adored band since the 1970s.
It's a love letter to moving on with your life, and forever focusing on the silver linings to get you through times of difficulty."
Annie Zaleski wrote, "Christine McVie brought romantic optimism to Fleetwood Mac."
Annie's view is "The song "Everywhere," a frothy pop hit found on Fleetwood Mac's Tango in the Night that's been covered by Vampire Weekend and Paramore, might be Christine McVie's most optimistic moment. As spine-tingling synths and undulating rhythms swirl around like glittery fairy dust, McVie, who died Nov. 30 at the age of 79 after a short illness, raves about a partner, alternating between wanting to shout about her new love and being left speechless by their beauty. "I want to be with you everywhere," she coos atop a slick of glacial harmonies. It's that extra word that makes a difference. She doesn't just want to be with someone, in general — she wants to be with them everywhere. "
Annie said, "As keyboardist, sometimes lead vocalist and frequent principal songwriter for Fleetwood Mac from 1971's Future Games onward, McVie consistently embraced this type of deep, romantic optimism, comparing love to sunshine (1972's "Spare Me a Little of Your Love"), documenting flashes of unabashed flirting (1982's "Hold Me") and extolling the virtues of true love (1995's "I Do")...
"Despite the real-life romantic disappointments, McVie's music wasn't diaristic. Speaking to The Guardian earlier this year, she was ambiguous about her inspirations: "Most of my songs are based on truth and real people, but a lot of them are just fantasies, really." That perhaps explains why McVie's songs maintain so much optimism despite lyrics that often express uncertainty.
Reflecting on meeting Christine, Tim Jonze in the Guardian wrote,
"
The difference between the two female members of the band played out in the music, too, where

McVie, with her optimistic songs about falling head over heels in love and moving on from broken hearts

, complemented Nicks's more mystical and poetic output. In a way, McVie was the McCartney to Nicks's Lennon; each was stronger for having the other by her side."
Here are some similar articles