Schools are Natural Centres of Optimism: Toni Meath
"Schools are natural centres of optimism. Nothing can quite compare to the buzz and hum of a school in action. They are places where minds of all ages come together with hope and informed optimism to make positive change. In schools you will find a remarkable sense of fun, optimism and joy; it goes with the territory of children and young people."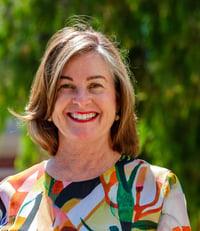 That's what Toni Meath told me when I asked what makes her optimistic.
Dr Toni E Meath is the principal of Melbourne Girls Grammar. She believes that enriching students with the ability to think critically and creatively is paramount to ensure they are prepared for an unknown future.
I asked Toni about the positive leaders in her life. Toni told me, "In my life I have had the fortune of being inspired by many leaders. As a shy teenager it was definitely David Bowie, as he dared to be different, embraced diversity and was single minded in his pursuit of musical excellence. As a young adult, noble laureate Patrick White was a true inspiration. White was proudly Australian, spoke his mind and had a generosity of spirit that I adored. More recently, it would have to be Sir Gus Nossal, another proud Australian who is a national living treasure. I love his intelligent, joyful approach to life and I am always moved when listening to his carefully crafted speeches full of practical wisdom."