Jim Yong Kim when World Bank President
"For me optimism is a moral choice"
Chris Reddy, Leadership Coach
"What makes me optimistic? It's pretty simple. It's all about appreciating the small things, accepting the setbacks, grasping opportunities and being grateful for the family and friends in my life."
Sophie Davies, when Australian Ambassador to Colombia & Venezuela
"My optimism comes from my belief in humanity, that most of us want to do good for each other, and the future is our destiny!"
Professor David Bowtell, Ovarian Cancer Research
"Who wouldn't be optimistic! In 100 years we have progressed from the first identification of distant galaxies and the concept of relativity, to being able to detect neutron stars colliding and disrupting the fabric space, using detectors of extraordinary precision. A little over 50 years has passed since the structure of DNA was first described and now we can read and interpret the genomes of any organism on Earth in just a few hours. We have become a super organism, where the components – us – have become connected with increasing speed and inclusion; first by voice, then print, and now the internet. When harnessed for good, the possibilities for humanity as a collective are unimaginable."
Frances Stead Sellers, Senior Writer at The Washington Post
"I'm made optimistic by the idea that my life may contribute in some small way to human progress and the common good."
Katelin E. Leahy, Michigan State University
"I feel most optimistic when I make the most of what I have, regardless of circumstance. In times of abundance, I am optimistic by savoring the moment and feeling grateful for my accomplishments. In times of challenge, I am optimistic by approaching my tasks with strength, patience, and grace."
(Read Katelin on Relationships and Optimism)
Jack Zenger, CEO of Zenger|Folkman
"What makesme optimistic? In a few days I'll turn 88, and I am absolutely convinced that the best days of my life are ahead of me and not behind me."
Frances Adamson, Governor of South Australia
"My Aunt Nancy, now in her nineties, recently wrote to one of our children in hospital: "My prayer for you is to be optimistic. Remember - dark clouds pass and blue skies follow." That's true in life, but in international relations optimism needs to be harnessed to policy development, advocacy, consensus building and effective implementation in order to produce outcomes which support peace and prosperity. Blue skies are infinitely preferable to dark clouds and that is why I am, personally and professionally, an active optimist!"
Mary-Lou O'Brien, Chief Digital Officer at Melbourne Girls Grammar.
"For me optimism is a mindset. A choice each of us makes. We all have options and I choose to be an optimist, even in the most negative situations. It's just a matter of focusing on the potential upside and whilst sometimes it takes time and patience, there is always an upside. An optimistic outlook imbues options for others, making it a valuable trait for leaders at all levels"
Rashidi Sumaili
"What makes me an optimist is the understanding that there's not a permanent problem or enemy in one's life. I am an optimist and dream positively with conviction and focus on the feeling of hope"
David Thomas, Australian China Expert
"I'm an optimist. Always have been. I like to take people with me on the journey without being too constrained by the potential for failure. There are plenty of people around to show you the potholes"
Sally Guyer, CEO of World Commerce and Contracting
"What makes me optimistic is an innate desire to be happy. And I take personal responsibility for being a happy and positive person - for seeing the opportunities and overcoming challenges - not giving up. I guess I'm ambitious too and I'm sure ambition requires optimism."
Andrew Stoner, Former Deputy Premier NSW
"I know I am blessed to be an optimist. My lofty goals in life have been shaped by optimism, it lifts me off the canvas when the inevitable hard knocks come, and it enables me to experience happiness in the little things in life."
Kelly-Ann Allen PhD MAPS FCEDP
"What makes me optimistic? One word 'People': Friends, family, neighbours, colleagues, students, my community, my children. People provide support when needed, build a sense of belonging and collectively contribute to a rich, exciting and meaningful life."
Paul Lehmann, Australian Ambassador
"We live in an imperfect world, but when you meet as many talented, generous and resilient people as I do every day, the case for optimism very often makes itself."
Frances van Ruth, Australian Trade and Investment Commission Head of Investment - Europe, UK and the Middle East
"People make me optimistic. When smart, capable, determined people come together with a common purpose, incredible things can happen (and have happened). Optimism is a virtuous circle, a self-fulfilling prophecy, and is indeed infectious. After 2 ½ years of COVID, optimism is something I'd much rather spread and catch."
Gretha Oost, Social Designer
"What makes me optimistic? The current chaos, the friction, the comfortable becoming uncomfortable. To me, it shows that real change is around the corner."
Michelle A. Waters, Strategic Consultant & Author
"What makes me optimistic is the capacity for people to love, learn and change. There is so much goodness inside everyone if we choose to see it, get out of our head and become still on the inside"
Richard Hayward, Healthcare Administrator at Western Health
"What makes me optimistic? Despite the doom and gloom evidenced in the mainstream media and the apparent lack of progress on democratic and political issues, there is a real sense that individuals and organisations have the capacity to make a difference and to create change that will drive progress forward."
Tracy McLeod Howe, when CEO, of the NSW Council of Social Service
"Persistent optimism is a must in my line of work. It's what drives a good advocate. Optimism that we can make our world better, optimism that others will join our drive for change, optimism that each of us has the power to make a difference. And you never know when that optimism will have a breakthrough. Give everything a try once, I say. Be comfortable with failing. Better to say, "ok, that didn't work – what's next," than to be constantly saying, "that won't work."
Denise Hearn, Author
"I am optimistic because every day, thousands of humans help me live my life - both directly and indirectly. From the farmer who harvested coffee beans to the manufacturer who crafted my coffee mug & the restaurateur who seats me in her establishment"
Kathryn Sandford
"For me what makes me Optimistic is the belief that it has to get better - that what I am facing right now is in the present and an optimistic outlook is full of hope and future-oriented. I also believe that to be Optimistic takes work and I am always searching for tools and strategies that you can use to maintain my optimistic faith!"
Elaine Beare, Happiness Researcher
"Happiness and optimism go hand in hand. If I have happy future-thinking thoughts, I am optimistic. If I am optimistic in my thinking, that makes me happy."
Rocky Scopelliti
"What makes me optimistic? There's a pure idea in every mind, waiting to be acted on."
Prof Brett Heyward, Professor of Practice, Graduate School of Business & QUTeX QUT

"What makes me optimistic? I'd have to say the human spirit. Our innovative nature comes to the fore at times of crisis."
Tim Entwisle, Director and Chief Executive of the Royal Botanic Gardens Victoria
"What makes me optimistic? It's a close call. Sitting beside my five-year-old grandson as he wakes in the morning light or planting a tree. Both are long-term investments in hope and optimism."
Rebecca Diem, Author of "Hopepunk and the New Science of Stress"
"When asked what makes me optimistic, I thought for a moment about the physical sensation of hope—it's a lightness of the spirit, the beginning of a smile, a deep lungful of fresh air. But as to its origin, I was unsure. I know that I am an optimist, but why? And so I connected that feeling to other parts of my life when I've felt the same, often surrounded by family, friends or like-minded souls.
"Community inspires my optimism. I love seeing people come together to celebrate their shared values and connect with each other, and I do my best to find that wherever I go."
Terry Paule, Co-Founder & CEO of Botanical Water Technologies.
"I believe that my optimism comes from my strong belief that I have the skills and ability to make good things happen by focusing on things that I can control in my life. It's a simple philosophy that motivates me on a daily basis and helps me to be the best version of myself".
Kate Dundas, Director of Strategic Foresight and Research at Sustainability Victoria
"A few things make me optimistic, the first is the inefficiencies of our current systems. There is so much potential for radical change towards a fairer, healthier and more resilient planet and society. The second is the incredible creativity of people and the power of community."
Nadene Joy, Research Geologist
"What makes me optimistic is to be the lighthouse in the midst of the storm as when I choose to be all of who I am in each passing moment with no masks of how others or society as a whole expects me to be, my light becomes the catalyst to inspire those who are lost out at sea to also choose to step into becoming the best and most authentic versions of themselves they can be."
Read more of these inspiring quotable quotes in "Optimism: The How and Why" by Victor Perton, CEO of The Centre for Optimism.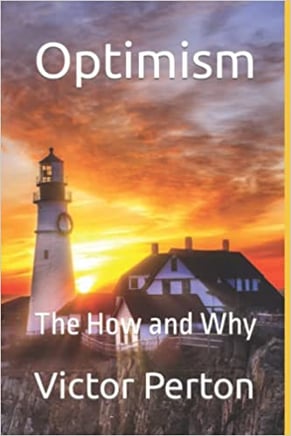 Connect With Us
We love to connect with everyone who is ready to open up and share their optimisim.